Thanks to
KMama
you too, may join in Thankful Thursdays♥
Thank You Very Much Day: a clever way to vent your frustrations on people/things that peeved you during the week, to thank them in a very sarcastic way, for what they have done for you.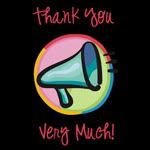 To the folks who, this morning, kept right on cruising, taking full advantage of the lanes left open for emergency vehicles:
I believe the other cars, along with my own, were actually making way as signaled by the lights and sirens of the approaching fire trucks and ambulances. It would be nice if next time you would join us, all the way to the right. And, for the record: I promise I did not for a moment wish that it were your home or family in distress. I did not. Thank you very much for your regard for others. Touching.
To LAUSD, Federal Government, Schwartzenegger, whomever:
Thank for dropping the bar so low for our children. What a compliment to be considered average when you score higher than only 7% of other children of same age. I think it is very relaxed of you to sit back and allow children to fail. By labeling failure average, you have magically eliminated a need for service. Thank you also for rightfully putting the screws to the teachers, because when a school is failing it is a reflection of the inadequate teaching skills and passion. If a school or district is outperforming a whopping 7% of all other schools, is this "within normal ranges"? If a person's wage exceeds 7% of the rest of the population, are they within a normal and healthy range of succeeding? Thank you very much for your interest in our children and future.


And to the sweet little Bangladeshi AT&T representative who tried with diligence to assist with my internet service disruption: Thank you sooo much for keeping me company for the duration of my boys naps. Who knows what I may have done with some time ALL BY myself? Seriously, don't even get me started.


Up Yours,
‹^› ‹(•¿•)› ‹^›